Round Tranny tits! Nina's are perfect! For those of you looking for a trans with perfect Round Tranny tits, Nina is the girl for you. She has the most amazing tits as you can see in the photo below. Big and round. Those tranny tits grab your attention the minute you see them and you cant take your eyes away! And once you get your hands on them your cock will also want to be all over them.
Just imagine for a min with your eyes closed. Nina is kneeling on the floor in front of you. Very tight tiny top on with her big titties sticking out the top. She has been rubbing your cock and playing with your balls. Now that your cock is hard and your heart is also racing! Watch the head of your cock go between her lips.
Feel it as it slides deep into her throat! Now as she has been sucking your cock and her teeth have also scratched at your head. Its ok to hold her head and guide her faster and slower in this action. Furthermore, She loves to have this done. Push her head down onto your cock.  And another thing, She will gag a little and then pull back. Do it over and over. Its time to pop your cock out of that tight wet mouth and cum on her tits!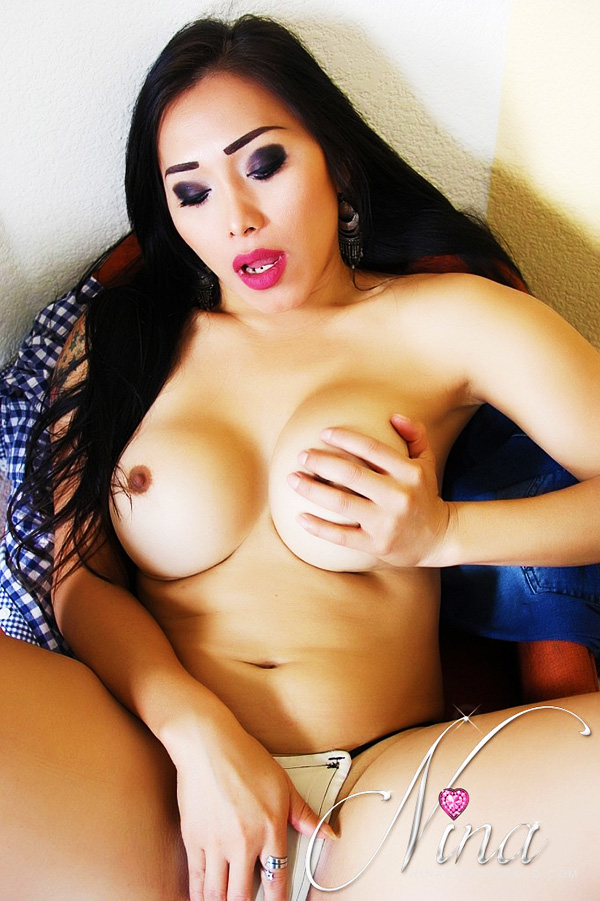 So if you are about finished face fucking this beauty. Get your cock out and then get into her members area so you have a lot of other photo and also video options to cum to.
Click here now to join Nina in her members area.
Other wise you can also check out more samples of this amazing beauty right here.
Rate and comment on all the sets that get you hard.