Nina StrongHold Creamy cock and lingerie! That that is Nina StrongHold creamy cock and all. Nina looks amazing in that sexy lingeire and those tits look nice and ripe for sucking. Nina tells her fans that she loves having her nipples played with. From Pinching them softly to twisting them hard when you have your cock buried deep in her ass. Nina will moan and move the right way to make you want to blow your load. Slow her down with kisses. Speed her up by driving deeper and harder into her love hole.
Further more she says that she loves when a man will shoot his hot load on them. Then lean down and lick them clean. It makes her cock hard and creamy and then ready to dump her own load! When you first meet Nina ask her what she wants to get her hot, hard and ready to cum. She will tell you or show you.
Click here to join Nina now to see more of this photo set.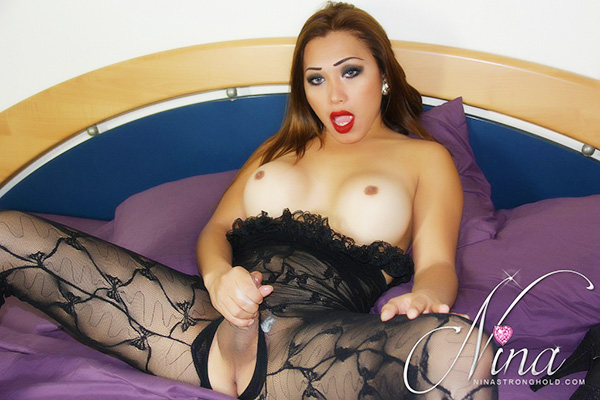 Do not miss your chance to see the movies Nina has ready for you. You wont get another opportunity like this.
Click here to surf other samples of Nina on this site.
Further more feel free to rate and comment on the sets that get your cock the hardest.